It was the middle of summer and I'd just come in from working in my garden. There was dirt under my fingernails and leaves in my hair. My 10-month-old baby was crawling around on the floor. I was so tired, and though I was happy with what I'd accomplished that day, it felt like a long time since I'd been able to just breathe and make myself look presentable – or at least my version of it. After a quick shower, I sat down, cuddled my little one to sleep, and opened Instagram. 
At the top of my feed, I saw a friend of mine, another mom, who had just done a boudoir session and posted some of her favorite photos. Her curves and stretch marks decorated her body like flowing silk and gems on a designer gown. I was shocked. Not only had I neither seen nor heard of boudoir photography before, but I was instantly taken aback at seeing this woman without her mom-bun and baggy shirt: confident, beautiful, real, and elegant.
Fast forward 6 years and I began work at Cherie Amour, where I get to witness women learning to love themselves just as they are every day. I've listened to stories from women who escaped abuse, ready to take back the power that was stolen from them.  Women who spent their lives hating their bodies and had a friend push them to just give it a try. Women who feel like they should do one for their upcoming wedding but are SO nervous to go for it. Women who confided, "He'll never see it coming – I'm usually so conservative!"  Women who don't want anyone to know, but have secretly wanted to do a session for years and finally decided, "Why not!?" Women who are in their 80s and have learned over the years the joy in welcoming each stage of life and loving themselves through it.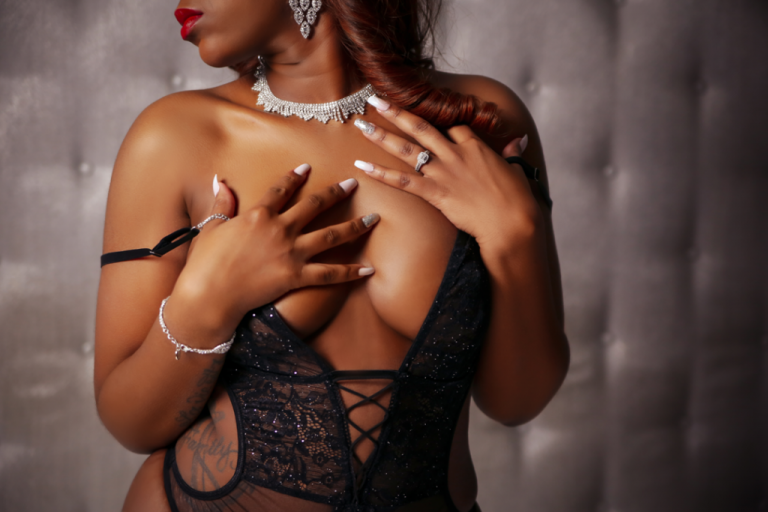 Boudoir is for each of them as truly and fully as it is for the others. It's more than taking sexy photos – it's a reclaiming of sensuality, stepping into every part of yourself with acceptance and love. A celebration of diversity and authenticity.  And it can be difficult to overcome fear and leap into something so intimate and, in ways, intimidating. But the growth comes with discomfort, and the feeling of empowerment and freedom is magical to experience.
Poet and author Becca Lee wrote a beautiful poem on self-acceptance:
The moon is a powerful reminder
That we can be beautiful
No matter how much of ourselves we choose to bare.
That we can be cherished even when we change – 
When we regress and when we grow.
That each of our phases are worthy, 
But we are at our most remarkable (unforgettable)
When we are full and wholly ourselves.
Through the lens of our wonderful photographers, we get to offer you the chance to be full and wholly yourself, and hope you join us. No matter where you are in your journey, you are worthy of love, of joy, and of honor.